Mike wheeler
Only the best character in stranger things. He saved eleven and later she returned the favor.Worth fangirling about.Often shipped with
eleven, thus creating mileven.I ship myself with him, thus creating bike.Friends with Dustin Lucas and Will
Enemies with Troy and James.FAMILY
SISTERS- NANCY, 17 AND HOLLY, 3
PARENTS- KAREN AND TED
BIRTH YEAR- 1971 (12 as of 1983)Wears ringers and stripes way too often.
Is loyal and a good friend, though overprotective and bossy at times.Overall a good person to be around.
Mike Wheeler is the best kid on Stranger Things!1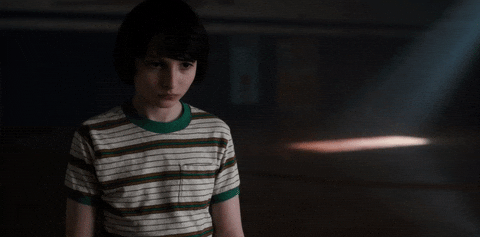 via giphy
Mike wheeler
A loving and caring guy.
Only allows party members into the AV room.
Is in a Netflix show stranger things
Awe he's such a mike wheeler
via giphy
Mike wheeler
Gay for will byers
Mike wheeler: I'm gay for will Byers

Everyone in the world: we know